Our Story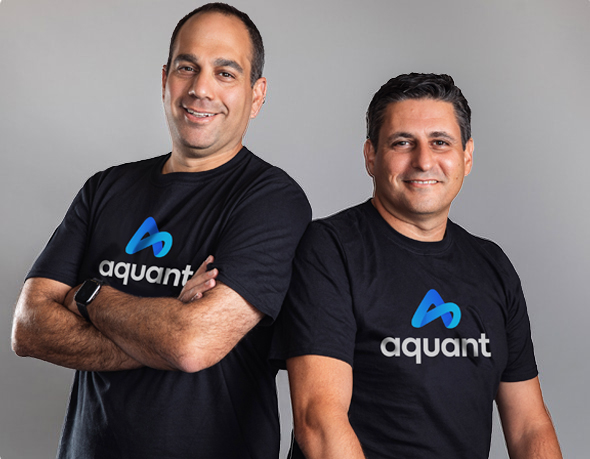 Providing great service is hard. It requires a skilled workforce, ever-changing technology, a ton of institutional knowledge, and the ability to measure effectiveness. These requirements make good service expensive. But poor service is even more costly. It leads to sub-par customer experiences, higher service costs, and increased workforce turnover.
In 2016 Shahar Chen and Assaf Melochna founded Aquant to solve these longstanding service challenges. They gathered a team of data experts and service veterans to create the Service Co-Pilot software. Aquant's platform is the next evolution in field service management software.
The AI-powered platform improves service outcomes while also decreasing the cost of service. Service Co-Pilot provides the right information at the right time, so service leaders, techs, and customer service reps can make accurate decisions with greater confidence.
Leadership Team
Shahar Chen

CEO & CO-FOUNDER

Assaf Melochna

PRESIDENT & CO-FOUNDER

Uri Polishook

GENERAL MANAGER, TEL AVIV

Edwin Pahk

SVP OF PRESALES AND CUSTOMER SUCCESS

Mairead Ridge

VP OF MARKETING

Hagit Farago

VP OF PEOPLE

Doug Wilmot

VP OF NORTH AMERICAN ENTERPRISE SALES

Ashley Bewick

VP OF STRATEGIC SALES

Ofir Bazar

DIRECTOR OF CUSTOMER SUCCESS

Sidney Lara

SERVICE PRINCIPAL

Maayan Shimoni-Bakish

DIRECTOR OF DATA ANALYTICS

Eran Granot

DIRECTOR OF PRODUCT MANAGEMENT

Joe Sullivan

DIRECTOR OF STRATEGIC ACCOUNTS

Eran Sharon

DIRECTOR OF TECHNICAL SERVICES & SUPPORT

Trupti Bahl

Director of Customer Success, Americas

Kristin Amico

Director of Content

Michael Ardan

Director of Brand and Creative
Our Offices
NYC OFFICE

147 West 24th Street, 4th FL
New York, NY 10011

TEL AVIV OFFICE

82 Derech Menachem Begin
Tel-Aviv-Yafo 6713829 Israel

BOSTON OFFICE

1234 Chestnut Street, Suite 106,
Newton Upper Falls, MA 02464